Enhancing Your Potential To Take All The Leaps
As a true career partner, Cap Dirigeant is on your side at each step of your career path, working with the most efficient outplacement and coaching practices. Every time you need it, you will find at Cap Dirigeant attention and professionalism to help you reach new steps, to unlock your limits and find the resources to dare.
We will be your sparring partner all along your career. You will come for an assessment at mid-career, you will come back for a coaching, for yourself or your team. You will meet your pairs regularly in our Club of Executives. If you are living a transition phase, we will help you to go through it with serenity and ambition within the framework of an outplacement.
It is simple, every time there is some questioning, you will find a listening ear, some confidence, some impulse at Cap Dirigeant, in other words, you will find the necessary dynamics to write a new chapter in your professional story.
We know your stakes as executive very well, as we also tackled them.
Our practice of accompaniment puts us in close proximity to the main problematics which executives are daily confronted to. Their experience is enriching ours.
This is the singularity of Cap Dirigeant: the richness of the expertise and experiences which are combining and reinforcing each other.


Career strategic
assessment


Coaching
of executive teams
An expertise dedicated to each of career challenges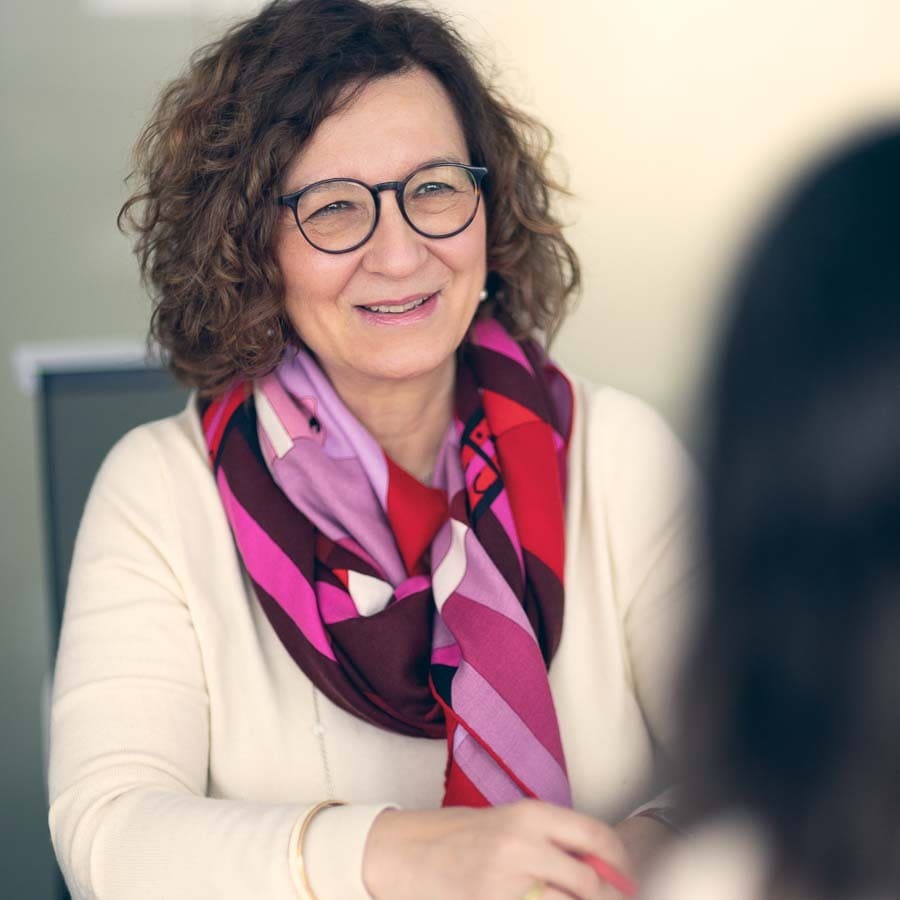 Whether or not you have decided to leave your former job, what is important is to choose what you want to do during this transition period. We are there to help you to make the best of it.
Our outplacement approach mixes the energy of the collective intelligence with your peers with an individual approach with a certified coach, member of our Team.
All along the process, you will pause and reflect on your path, your strengths and your aspirations. You will open your horizon during unique immersive experiences. You will define your project precisely. Then, you will be accompanied while building your personal strategy and the resulting action plan.
Find a new activity, and much more
At Cap Dirigeant, we know that all our clients will find a new activity matching to their personal aspirations.
The first stake is obviously to materialize quickly this new professional project: managing the timing, avoiding the counterintuitive mistakes, adopting efficient new methods which have demonstrated success while offering a tailor-made approach…
Our mission is also to make sure that this approach results not only in a concrete result but that it is also a learning process.
Whether it is about launching your consulting activity, creating or acquiring a company or working for a company, our aim is the same: seeing you reach your target, reinforced by this experience.
So, what would you like to do during this period of transition? Discover how to value your path? Getting to the next level in your next steps? Connecting yourself more to the professional world of tomorrow? Giving a major inflexion to your professional project?
The Cap Dirigeant approach
An efficient approach to ensure you not only to find an activity, but also a more fulfilling professional life. Our mission is to be sure that this process will be a step forward, closer to your aspirations.
Completion of an in-depth assessment of your path, your skills and your aspirations.
Integration into an inspiring and caring community of executives to make you benefit of the strength of the collective.
Participation to thematic workshops to benefit from a collective dynamic.
Coaching to develop your network, the cornerstone of the success.
Preparation to win in complex, changing, international and multicultural environments.
Strategic Career Assessment

Keeping a hand on one's path requires taking time and stepping back. However, when you are an executive, you can easily be overwhelmed by the up-and-running and daily activities, to the point of forgetting yourself.
To assess efficiently the opportunities which are coming, internally or on the market, it is important to get an in-depth assessment of your career path and to reconnect with yourself and have clear ideas about your assets and aspirations.
To achieve this, we are beside you thanks to a structured method and a personalised accompaniment.
This process allows to link your professional project to your personal interests, so as to reset and make a fresh start:
your favourite operating modes, your strong points and your motivations to the next years
your achievements, your competencies and the environment which will allow you to reveal your talents
a realistic and concrete project which looks like you.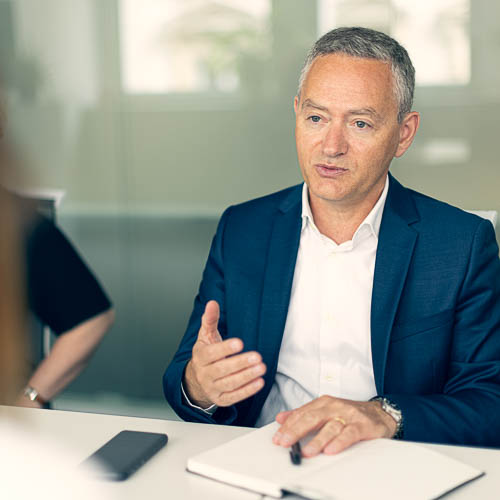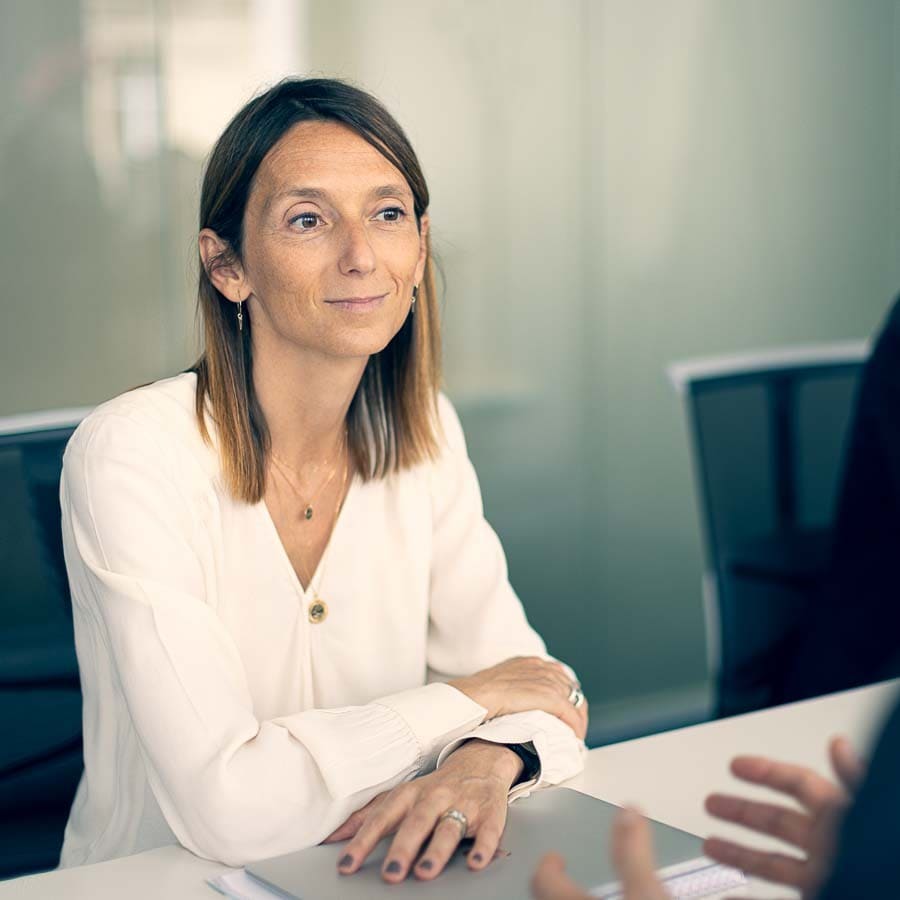 To carry out the in-depth transformations of their companies, executives are often heckled by time pressure, the risks taken for themselves or their structure, the internal resistances, the loss of sense and motivation, the difficult decisions, a change in culture or shareholders, or even an arrival in a new high-stakes positions.
The success of these challenges goes through a change in the manner to tackle them. Coaching helps this process of change. In fact, when desire and goals are aligned, coaching gives the full measure of its efficiency creating results which are concrete and sustainable at the same time.
Through this individual work, the executive will draw from themselves and liberate personal resources left dormant. A powerful process which opens up to more adapted attitudes in a specific context. It is thanks to progressive and consecutive experimentations that they take back sustainably this new posture.
The protected time-space of coaching allows:
Rising up and developing new perspectives
Understanding better our own processes, driving forces and resources
Reinforcing confidence and decision-making ease
Rolling out an authentic, affirmed and assumed leadership
Communicating efficiently and arousing commitment
All the Cap Dirigeant associates are certified professional coaches.

It is together that tomorrow is being built
To rise the strategic stakes in a complex and uncertain environment, the Executive teams must enlighten the future of the company. They also have the responsibility to develop the collective intelligence of the organisation, that is essential to reach the targeted aims and be durably successful.
Around its executive, the managing team can be confronted to the following needs:
Co-building and spreading an authentic company culture, which is as attractive than operational: the raison-d'être, values and principles of management,
Articulating an ambitious vision and declining it into strategic priorities,
Impulsing the necessary transformations for its implementation,
Instilling meaning across organisation and mobilising energies,
Creating the conditions for a successful operational deployment.
Our consultants are trained and certified into organisations' coaching. All our coachings are tailor-dame, taking perfectly into account your company's culture and the intervention context.
A tailor-made accompaniment, a relationship of confidence, methods enriched by the collective intelligence, and crossed and complementary expertise of experts in executives.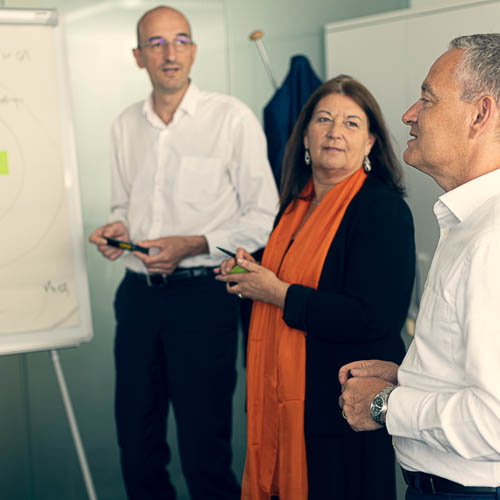 A customized individual coaching, a powerful team work, a passion for digital